DIAMETER MEASURING UNIT
---
GURFIL Diameter Measuring Unit is a Dynamic Instrument for outer diameter measuring and control of cables, wires, fiber optic cables, and tubes. GURFIL Diameter Measuring Unit operates on high-sensitive CCD sensor with high-speed pulsed IR (infrared) beam, and fast digital image processing technique.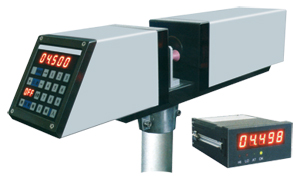 Properties:
Measuring accuracy
Stability
Compact Size
Low power consumption
Digital display
1800 measurement per second
RS-485 communication interface cable connection
Double screen and Aluminum stand
Gurfil Machinery Division provides commissioning, after sales service and all the spare parts from its warehouse with professional service personnel 7 days a week 24 hours a day.